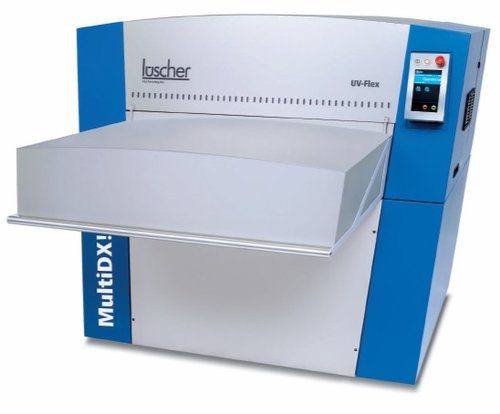 Schilling Inc. operates a Technology Center featuring the Lüscher Technologies MultiDX! imagesetter at the Ohio Fabrication Facility and Headquarters in Galion, Ohio. The Technology Center opened in 2017 to address industry skepticism over the viability of the MultiDX! imagesetter over conventional and CTS processes. The center allows potential buyers to see a firsthand demonstration of the technology utilizing screens from their respective businesses.
Schilling Inc. successfully utilizes the technology within the existing customer portfolio to substantiate superiority of the MultiDX! imagesetter! vs. conventional imaging vs. CTS machines. Key features of this technology include:
Images fine line widths as thin as 20 microns
Accommodates more resolutions: 1270 dpi resolution to dual 2540/5080 dpi resolution
Direct to screen, no photo tooling
Accommodates any emulsion or mesh
Unparalleled dimensional accuracy
Consistent deposit thickness
Global dimensional stability
Allows for complete front to back curing
Triple resolution levels in same machine allows for different job pricing
Customers are invited to visit the Technology Center and will receive up to 3 screens imaged on customer supplied frames to their specifications completely free of charge as a demonstration of SG and Kiwo's confidence in the MultiDX! imagesetter!'s superiority over conventional and CTS imaging.
Schilling Inc.'s suppliers are also invited to visit the Technology Center to see how various products, including dual cure stencil materials, interact and perform with the MultiDX! imagesetter! technology. Given the supplier base's extensive knowledge and access to the industry, they will be able to bring their own products and see first-hand the benefits of the technology and the potential impact on current and future materials. Additionally, the belief is that educated and experienced voices in the industry will then be able to dispel some of the skepticism of the advantages of CTS technology over Conventional imaging in the marketplace.
Contact us today to set up your appointment.
TEST before you INVEST
View Technology Center Brochure